High Tech Systems & Materials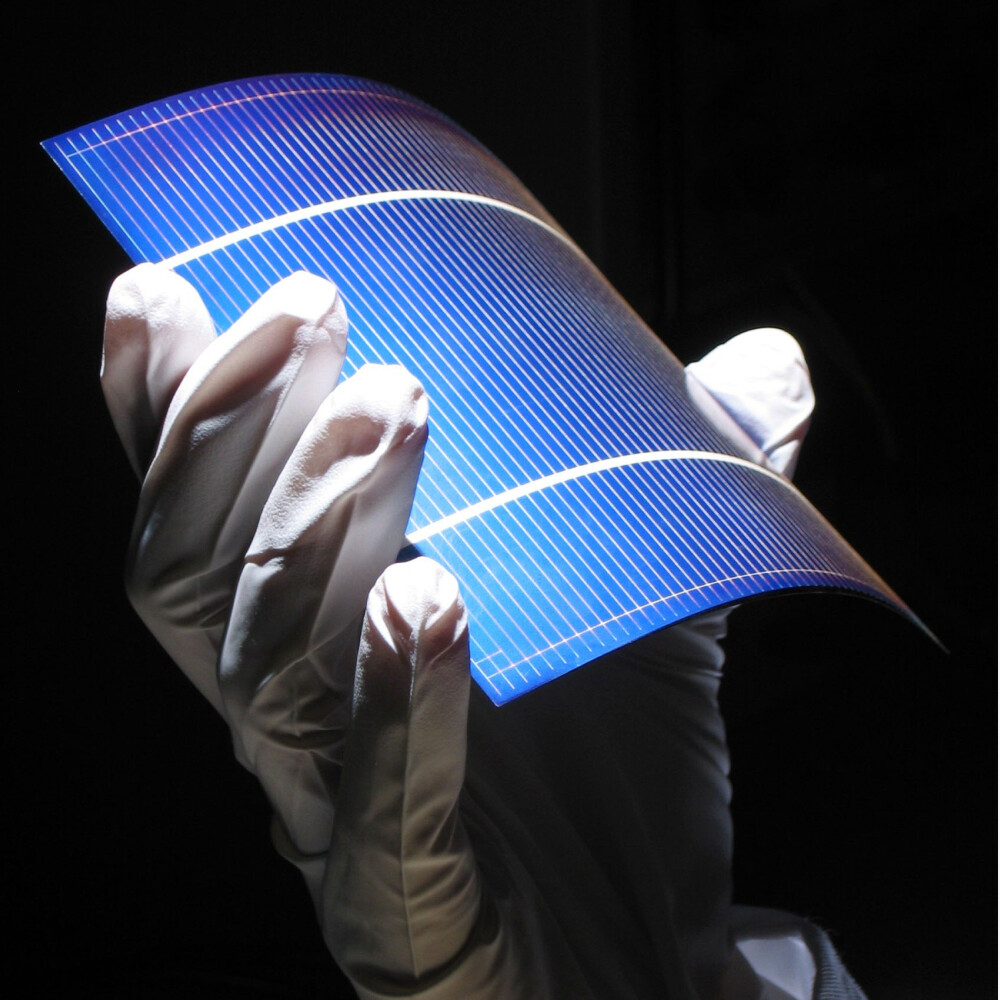 In Brabant, every component, every conceivable machine, every possible integrated system, or cyber-physical system can be invented, designed, developed, produced, assembled, marketed, commercialized, and maintained – even remotely, if necessary. This focus on complex, high-tech challenges and their solutions is a powerful attractor for talent. Researchers and inventors, driven to find solutions for some of the most pressing global challenges, are drawn to Brabant due to the high density of tech companies, world-renowned knowledge institutions, and the opportunity to plug into any part of the value chain that fits their specialism. In addition, major OEMs such as ASML and Philips and the high number of tier-1, -2, and -3 suppliers provide ample opportunity for finding the right match between talent and employer.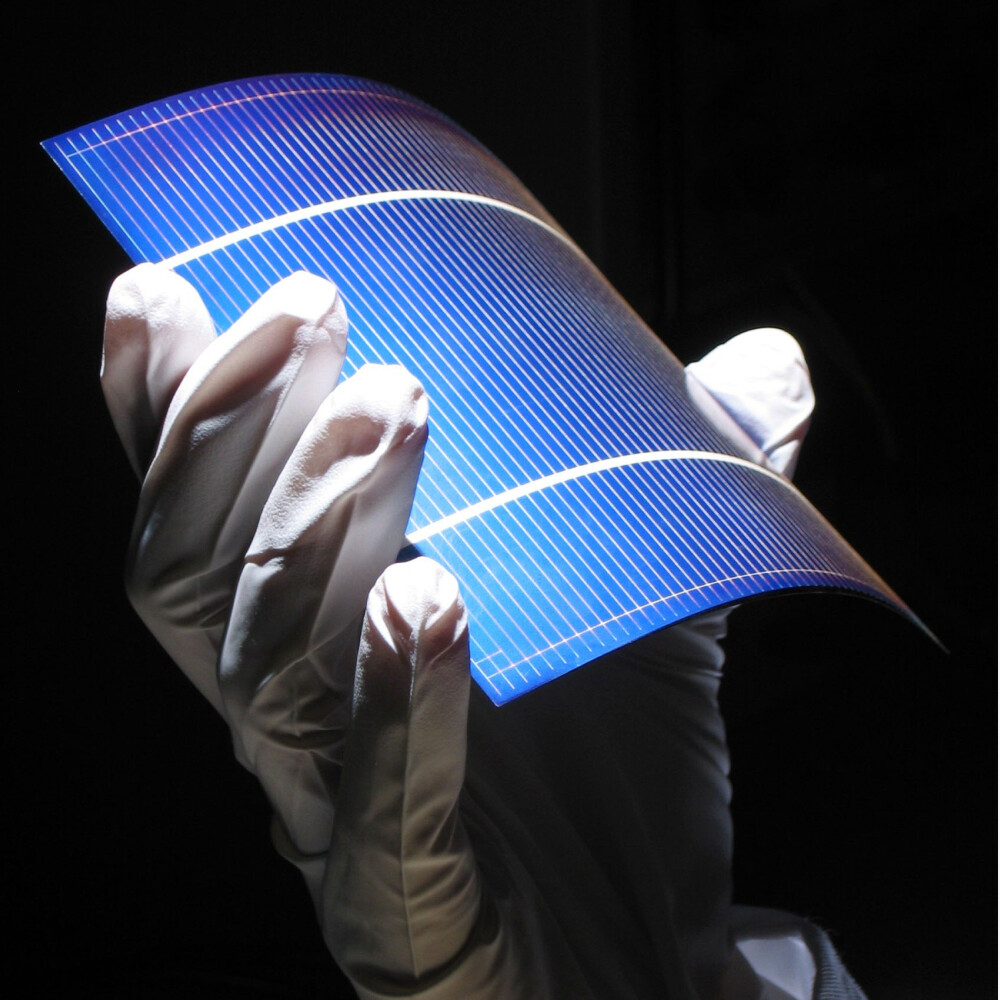 €81 billion
Production value
>30%
Private R&D spending
34,000
People working in R&D
Complete value chain is present
The complete value chain, from R&D to industrialisation, is present in this innovative region. This is partly due to the advanced manufacturing legacy of major tech/industrial companies located here historically, such as Philips, ASML, VDL, and DAF Trucks, making Brabant the 7th most innovative region in Europe. Unsurprisingly, it is with pride that Brabant has created the most complex machine in the world – ASML's extreme ultraviolet lithography machine for the fabrication of the chips that sit in everything from iPhones to automobiles and satellites; a 'hypermachine' operating at the absolute cutting edge of human technical capability. ASML's machines are so critical to everyday life that they influence world geopolitical equilibrium.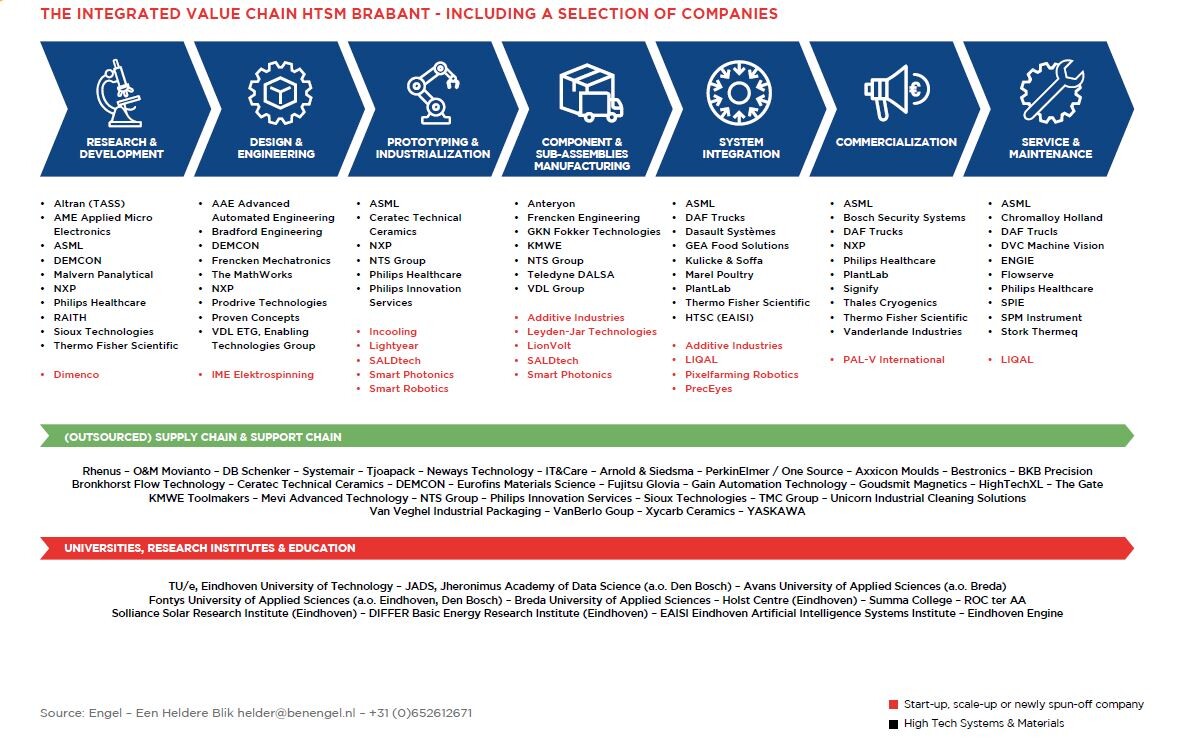 High Tech Technology niches
This region is a frontrunner in new production techniques and advanced manufacturing. In Brabant you will find an 'Industry Based Ecosystem', where people know what it takes to get a product into the market. With innovation hotspots like High Tech Campus Eindhoven the smartest square kilometer of Europe, and Brainport Industries Campus – the Factory of the Future – Brabant is the ideal place for companies that want to shape the future of the High Tech manufacturing industry.
Download
Presentation on Advanced Manufacturing in Brabant
Key technologies such as integrated photonics can drive development in energy-efficient applications – reducing costs and environmental impact, for instance, in energy-hungry data centers, advancing innovation in remote care within the health sector, and sensing and monitoring technology within agrifood. With 17 companies and 550 FTEs, PhotonDelta, at the High Tech Campus in Eindhoven, is an independent growth accelerator and open platform for the integrated photonics industry.
Download
Presentation on Photonics in Brabant
Brabant is already at the forefront of what is called 'smart mobility', the combination of vehicle development and autonomous navigation. NXP, TomTom, NXP, TNO, HERE, DAF Trucks, and many other large and small specialists lead the way in this respect. Moreover, Brabant plays an important role in 'green mobility', with various companies and institutes developing low-emission and zero-emission propulsion systems and fuels, as well as the required infrastructure. These include DIFFER, Holst Centre, DAF Trucks, NXP, TNO, Ricardo, Lightyear, Rolande LNG, LIQAL, Leyden-Jar Technologies, and LionVolt.
Download
Presentation on Smart- and Green Mobility in Brabant
Electronics, micro-and nanotech
The full electronics supply chain that co-developed with Philips adapted its core activities and is still in Eindhoven, supplying companies both in the Netherlands and abroad. The definitions of the technology (and the sequence in which they are mentioned) already perfectly clarify why the Brabant region still leads in electronics and related fields and the technology domains that evolved from electronics. They mirror Brabant's historical growth and present strengths in High tech Systems & Materials from an electronics perspective: Electronics, Embedded Systems, Nanotechnology, Integrated Photonics. The Brabant HTSM ecosystem is well-represented in all of these fields
Download
Presentation on Electronics, micro- and nanotech in Brabant
One of the main activities in the semiconductor industry is wafer fabrication, which involves the manufacturing of silicon wafers that serve as the base material for electronic devices such as microprocessors, memory chips, and sensors.
There are several companies in Brabant that specialize in wafer fabrication, including NXP Semiconductors, ASML, and Philips Semiconductors. These companies use advanced technologies and processes to produce high-quality wafers that meet the stringent requirements of the semiconductor industry.
Download
Presentation on Wafer Fabrication in Brabant
Also in this industry, collaboration is key. One of the places to do so is the High Tech Campus in Eindhoven. This campus is the smartest square km in Europe and offers an ecosystem of 260 high tech companies. Every company at High Tech Campus Eindhoven shares a common goal: to develop new technologies and applications that help to solve social problems and challenges, and to successfully bring them to the market. This combination of technology and business is central to the many collaborations on the Campus – and it shows. Multinationals such as Philips, NXP and Intel, small and medium-sized high-tech companies, research institutes, service companies, scale-ups and startups are working together on the technologies and products of tomorrow.
Together, more than 12,500 international researchers, developers and business people on the Campus provide an enormous amount of knowledge and dynamics. They have made High Tech Campus Eindhoven one of the global hotspots in the field of Health & Vitality, Sustainability, Applied Intelligence, Smart Environments & Connectivity and Software & Platforms.
Play
Downloads
In-depth study High Tech Systems & Materials in Brabant

Info & Graphics on High Tech Systems & Materials
Toine Cleophas
Senior Projectmanager Foreign Investments High Tech Systems & Materials