Stock Market of Things' StockX will conquer Europe from Brainport Eindhoven
StockX calls itself the world's first stock market of things. The U.S. company is revolutionizing how limited-edition goods such as hard-to-find Adidas Yeezy sneakers and Gucci handbags are sold online. After careful consideration, StockX picked Brainport Eindhoven to establish its first major hub in continental Europe. "Launching our location in Brainport is really the step to take to grow our business by hundreds of thousands of users in Europe."
11 November 2019
Founded in 2015, StockX is an online marketplace that taps into the growing market for collectible sneakers, streetwear, watches and handbags. The company's proprietary platform connects buyers and sellers of these products in a revolutionary way. Similar to how stocks change hands on the financial markets, sellers list the minimum price they are willing to accept while buyers place bids. When there's a match, StockX takes care of a smooth and safe transfer of funds and goods.
The Detroit-based company has attracted a host of celebrity investors including Salesforce.com founder Marc Benioff, rapper Eminem and actor Mark Wahlberg. It reached a $1 billion valuation after its most recent funding round in June 2019. At the end of 2018, the company's annual gross merchandise volume exceeded $1 billion for the first time. StockX has more than 800 employees, half of whom are based in Detroit.
Authentication Centers
At the heart of StockX' operations are its authentication centers. These are large warehouses where goods are received from sellers and prepared for delivery to buyers. To avoid unpleasant surprises, specialist StockX workers check the authenticity, condition and size of each product before they are shipped to their new owners.
The authentication center, which opened in September 2019, is its first in continental Europe.
This location is critical to grow our seller population in Europe and drive more business through the marketplace. It's really at the core of our growth strategy for Europe.

Olivier Van Calster, General Manager for Europe - StockX
The vivid urban culture in the region played an important role in choosing Eindhoven. Brainport Development, the economic development agency of the region, together with the BOM, helped StockX connect with the local community of fashion influencers. "With the help of two social-cultural organizations, Dynamo and Modebelofte, we presented the rich urban culture of the region. Predicting the future of tech, streetwear and sustainability has convinced StockX to choose for Brainport", says Fancy van de Vorst of Brainport Development. Van Calster: "There's a cultural renaissance happening here. The urban fashion youth culture is really alive, which makes it much easier for us to find people that we can train as authenticators. To do that job well, you need to have a deep interest in streetwear and special sneakers and there are many people in the region who bring that experience and passion to the table."
A few months before its launch, StockX hosted a meet and greet for potential talent. The event, , attracted more than 70 people. "It was a huge success," says Van Calster. "We already hired the first 15 people and we are very, very confident that we will have no trouble filling our other vacancies as we grow to more than 100 employees a year from now."
StockX was also drawn to Brabant's unique location – with 170 million consumers within a 500-kilometer radius. Van Calster: "This helps us optimize delivery time and cost to our key markets: Germany, France, Italy and the Benelux. To us, Brabant is really the center of gravity to reach continental Europe."
BOM Foreign Investments helped StockX get off the ground quicker. "Their introduction and facilitation have been really helpful to us as we didn't know the local market ourselves," says Van Calster. "They gave us a really good sense of the type of properties that were available and joined us when visiting the premises. All in all, they helped us get access in the fastest possible way to the talent pool and the facilities that we need to launch our operation and expand our business into Europe."
StockX in numbers
Founded: 2015 in Detroit
Employees: over 800 (July 2019)
Annual gross merchandise volume: > $ 1 billion
Activities in Brabant: authentication, logistics and support functions
Workforce in Brabant: over 100 FTE (est. in 2020)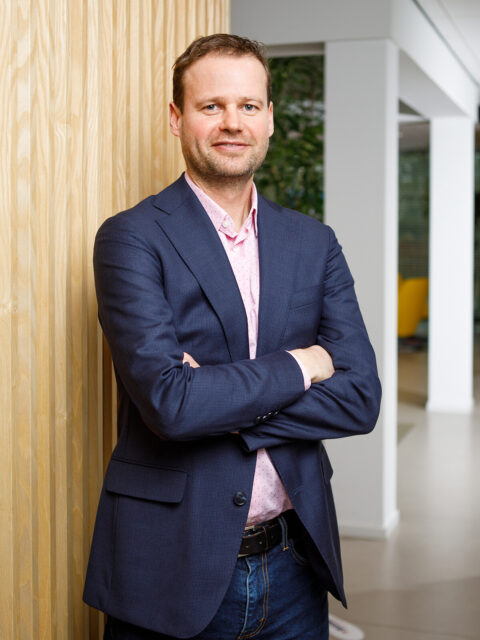 Maarten Brouwer
Teamleader Foreign Investments