Ingram Micro: Brabant is the logistics valley of Europe
Ingram Micro recently opened a new distribution center in Waalwijk, building on its already strong presence in Brabant. The decision to expand in the region was a no-brainer for Jack Heijkans, Ingram Micro's country executive for the Netherlands. "The combination of technology and logistics universities and the lively startup scene so close to our warehouses is quite unique. To me, Brabant is really the Logistics Valley of Europe."
11 November 2019
Brabant. Logistics valley of Europe.
Founded in California in 1979, Ingram Micro is the world's largest distributor of computer and technology products including mobile phones, laptops and accessories. The company, which is active in 52 countries, also provides supply chain management and cloud computing services to help businesses operate more efficiently in the markets they serve. With more than 30,000 people, Ingram Micro generated $50.4 billion in 2018 fiscal year sales.
In the Netherlands, Ingram Micro is one of the leading players in what's called third-party logistics. The company operates five distribution centers in Tilburg and Waalwijk to handle the entire logistics operations of successful businesses including Bol.com, the country's largest online retailer, and department store chain de Bijenkorf.
The Dutch operation plays a pivotal role in Ingram Micro's global distribution network. Jack Heijkans: "Logistically, the Netherlands is our main hub for Europe. The harbors of Rotterdam and Antwerp are close by and, if you include the UK, we are right in the middle of western Europe. From here, we can ship goods to any location in Europe."
Technology pioneer
Within the company's global organization, the Dutch branch is known as a technology pioneer. In a bid to constantly increase the efficiency of its warehouses, it regularly teams up with local suppliers including conveyer belt startup Valor and logistics automation specialist Vanderlande. "Many of the machines in our warehouses are prototypes because the technology we were looking for simply didn't exist," says Heijkans. "To speed up our development we need to work with agile partners, and Brabant has plenty of them."
As a technology pioneer, Ingram Micro relies on a large internal engineering and IT department to implement innovations. Brabant is the perfect place to find talent.
We work closely together with the Technical University in Eindhoven and Breda University of Applied Sciences, which offers logistics programs. The combination of those two universities so close to our warehouses is really brilliant. It gives us access to a unique pool of talent with technology and logistics expertise, which is exactly what we need.

Jack Heijkans, Country Executive the Netherlands - Ingram Micro
To support its growing business, Ingram Micro recently opened a new 20,000 square-meter warehouse in Waalwijk. Together with regional partners, BOM helped Ingram Micro speed up the search. "We were looking for a building that would be ready before the start of peak season. We got in touch with BOM and within a day they gave us an overview of all locations in development. We picked one and went ahead. The new building opened in time for peak season, just four months after our initial decision to expand."
According to Heijkans, collaboration is in Brabant's DNA. "Brabant is a friendly region where people always try to help each other. That's also our experience with BOM. They are very keen to develop the region with the right companies so we can all prosper."
Another example is Ingram Micro's successful partnership with the municipality of Waalwijk to help the region's long-term unemployed get back to work. "We are growing 30 percent per year, so we are continuously looking for new people. Meanwhile, there are still people who can't find work. The local government has systems that help them see exactly what these people's capabilities are," Heijkans explains. "Over the past nine years, we have hired many great employees this way. This really shows the incredible potential of this region."
Ingram Micro in numbers
Founded: 1979
Employees: > 30,000 (as of end of Q4 2019)
Revenue: $ 50.4 billion in 2018
Fun fact: Ingram Micro handles one out of three mobile devices that are sold in the U.S.
Activities in Brabant: logistics services for Dutch clients and distribution to the rest of Europe
Workforce in Brabant: 1,300 FTE across its five sites in Tilburg and Waalwijk and up to 3,500 temp workers in peak season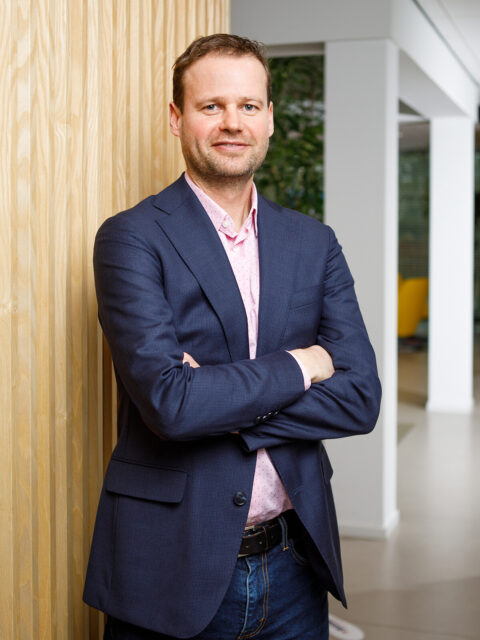 Maarten Brouwer
Teamleader Foreign Investments